---
Naughty Niece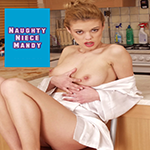 Hey Uncle – I made this naughty recording just for you! I have seen you watching me…  The way your eyes slide up and down my young frame! I know what you are thinking 😉  You should purchase this audio file and listen to me tell you all about it.
Long to hear how your naughty Niece Seduces you for the very first time? My hot young voice will make your cock stiffen with anticipation. Enjoy this 1 on 1 Incest fantasy with your favorite Niece… Me!
This audio (mp3) file is 5 minutes 30 seconds long and it's yours to download and listen to as much as you want.  This way you can have me in your ear when privacy is hard to come by.
Be sure to stay tuned for more of my hot & naughty recordings.
Click here to purchase and download.
Want to see every inch of me? Buy my picture sets too! https://kinkyphonesexslut.com/pictures/
I look forward to  hearing from you very soon!